Engineering & laboratory in focus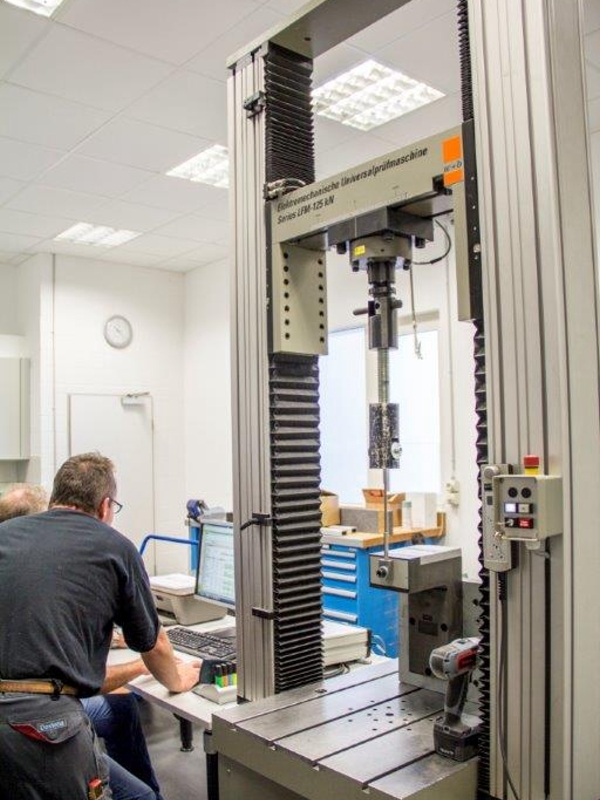 In our first Dosteba Insider, we would like to give you a glimpse into the day-to-day work of our laboratory crew.
Great work is being achieved in the laboratory, the domain of Dr Hans Maag (head of engineering) and Urs Eggenberger (laboratory employee). All our fixation elements are tested here for their resistance up to the load limit. What can look simple from the outside can turn into real back-breaking work. Whether it is on the monitor, when preparing and processing data or actively on the certified tractor.
A complete series of trials for a single group of products can easily consist of well over 100 tests due to the different load directions (tensile directions) and diversity (thickness) of our products.
We examine not only the static values but also how our products behave in extreme situations such as heat (+80°), cold (-20°) or fire. We're also interested in how they behave under constant stress in the long term.
To this end, the premises and capacities were expanded last year to meet the increasing requirements.
The results of this work can now be found in our technical documentation.
As soon as all the requirements could be determined, Dr Hans Maag began to consolidate hundreds of data sets and test reports so that all information could be put into a handy brochure and made available to structural and other engineers.